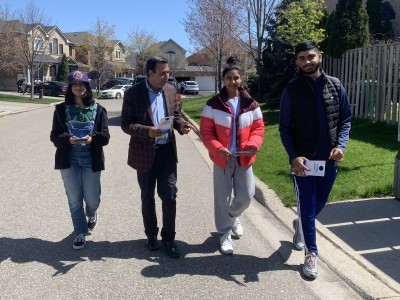 Youth unemployment in Mississauga—Malton a key issue for backbencher Deepak Anand
As a first-time politician, Deepak Anand struck a balance between standing up for his Malton constituents and staying true to his PC party's platform, even when the two considerations clashed with each other.
As an MLA, he stood inside Queen's Park to speak a total of 327 times, 73 of which mentioned his unique constituency. The vast majority of Mississauga—Malton residents live just north of Pearson International Airport, which not only creates a physical barrier between the community and the rest of Mississauga, but often cuts Malton off from the rest of the city socially and politically. The riding has become a vibrant and diverse region, but its isolation poses unique challenges.
Anand is seeking re-election on June 2 and the PC candidate, who has not offered voters an individual platform to set his priorities for Malton, will instead have to be judged by voters on the basis of his four years of experience .
Bill 231, the Protecting Ontarians by Improving Gas Station Safety to Prevent Gas and Dash Act, 2020, is one piece of legislation Anand is working on. It has yet to be passed by the Social Policy Standing Committee, but could become law soon after the start of the next legislative session after the June election.
When the House was dissolved, Anand was Parliamentary Assistant to the Minister of Labour, Training and Skills Development, an area of ​​governance he linked closely to the constituency on several occasions. He has served as a member of the Standing Committee on Government Agencies, Chair of the Standing Committee on Social Policy (after serving as Vice-Chair and Member), and Chair of the Standing Committee on Regulations and Private Bills.
His first major speech in the Legislative Assembly came on July 25, 2018 when he spoke about youth unemployment, an issue plaguing many of his constituents.
"In my riding of Mississauga—Malton, the youth unemployment rate is about 25%, and 28% of young people in Malton feel left out and don't participate in extracurricular activities. Both of these numbers are above the city average," Anand said.
Very early on, he mentioned these statistics to illustrate the impact of unemployment on his constituency. After high-profile incidents in Malton involving gang-related activity and other daily examples of violent crime involving young people, Anand expressed concern about the plight facing many young people in his constituency; Mississauga—Malton has the largest non-adult population in Mississauga, a statistic he often mentioned inside Queen's Park.
Anand has focused his efforts on connecting young people with further training and employment opportunities, particularly for the skilled trades which employ a large portion of residents in the constituency.
"I am making this motion to solve this problem in my constituency, and I hope we can solve the problem in the rest of the constituencies as well. This motion aims to address the miscommunication between young people and employment opportunities," he said at Queen's Park on August 9, 2018. "There is huge potential to reduce the youth unemployment rate by connecting simply young people to current community employment resources. I'm here to ask, let's close that gap.
Unlike many of his PC colleagues, Anand broke ranks a few times when he boldly called on his own party to do more for his constituents.
"To be honest, the main flaw of youth unemployment is kind of with us," he said.
Anand has two children and has drawn on his experience as a father to address the need for better educational pathways to address youth unemployment.
He spoke inside the legislature about science, technology, engineering, and math (STEM)-based opportunities and prioritized commitments by local Mississauga—Malton businesses to enable lifelong learning of employees.
He also advocated for Bill 68, Ontario's Comprehensive Policing Act (2019). The bill has impacted the public's ability to hold policing oversight bodies accountable and has drawn criticism from many members of black communities in Ontario who have suffered from policing and disproportionate targeting through carding and use of force (Peel statistics show that police use both practices on black residents at about three times the rate compared to the general population). Anand expressed concern on behalf of his constituents, but ultimately backed the controversial bill, a common tactic of his, which saw the MLA's first term generally toeing party lines, even when he did not serve the residents of Malton well.
"Mr. Speaker, trust and confidence are the two important characteristics of effective policing policy, and the people of Ontario must have confidence in the police to keep our communities safe," he said. he said, but he did next to nothing to ensure that the "trust and confidence" of the community would inform the results of the legislation.
Anand also spoke about Interim Place and the local organization's efforts to protect women and girls from violence. It was a common concern for many in his constituency, but, again, he failed to connect words with deeds.
Anand mentioned events, organizations and businesses in his riding, such as SodaStream and its investment in a local manufacturing plant that created 28 jobs for residents of Mississauga—Malton.
Deepak Anand is seeking re-election on June 2 with the Progressive Conservatives. Anand's biggest competitor is the Ontario New Democratic Party candidate.
(Twitter)
In March 2019, he stood up in support of Bill 48, the Safe and Supported Classrooms Act (2019), which further protected students from abuse at school. The bill requires educators guilty of any act of sexual assault to relinquish their teaching certificates and diplomas.
Anand has often spoken out about violence against women and youth violence, advocating for safer communities, but when one of the worst mass shootings happened in his own constituency in September 2019, he didn't. not said a word inside the legislature. He remained silent on the need for gun control and offered no solution to address community concerns about the complete lack of police presence in Malton, following the recent closure of a community station. The incident left an innocent 17-year-old bystander, Johnathan Davis, dead and five others injured as more than 130 bullets were fired in broad daylight into the grounds of an apartment complex in Malton, in this which was deemed a youth gang incident.
Davis' horrific murder in the community left residents in shock.
It wasn't until February 18, 2020, five months after the mass shooting, that the MPP for Mississauga—Malton publicly acknowledged the incident at Queen's Park. In a brief statement, he asked Solicitor General Sylvia Jones what the province was doing to address gang and gun violence.
In the fall of 2019, Anand rose to speak about the continuing issues of systemic anti-Black racism and discrimination within the Peel District School Board.
"When I hear about allegations of racism against a community, just the thought that someone has been the victim of racism really discourages and discourages me," he said on November 28 of the same year. . "Recent concerns raised by the community regarding allegations of anti-Black racism on the board and lack of buy-in in governance, leadership and human resources are very concerning."
Anand supported then-Education Minister Stephen Lecce's "swift" action to appoint two independent reviewers to review the board (Lecce ultimately oversaw the appointment of a supervisor to take over governance of the board). PDSB, and the head of education on the board was immediately fired).
When COVID-19 arrived in Ontario, the riding of Anand was the hardest hit area in Mississauga. Infection rates have increased and devastated small businesses and manufacturing companies. He backed legislation early on to expand the government's use of the state of emergency, continuing to keep drastic pandemic measures in place, but later when the need for more sickness paid was raised, Anand turned his back on the workers and residents he had claimed. support, stick to the CP's assertion that the government was doing enough.
He acknowledged his constituency was in dire straits with rising case rates because people couldn't get paid time off and were choosing between a job over having no food or rent.
"I have spoken to countless workers and residents who were so grateful for this program and for the government's support," he said Nov. 23, 2021. "I'm sure they haven't forgotten that, and they wouldn't have had it without that program," he said, referring to supports that were largely federally funded, refusing to demand more paid sick days.
The three-day paid sick leave that Ontario eventually implemented was criticized by worker advocates who said it wasn't even enough time to rid the body of the virus. Anand argued twice during the term for the minimum paid sick leave, instead of the 10 days workers were asking for, saying essential workers would benefit from the PC policy, which was only passed after more a year of overwhelming impacts of the pandemic on essential workers and their families.
---
E-mail: [email protected]
Twitter: @taasha__15
---
COVID-19 affects all Canadians. At a time when everyone needs vital public information, The Pointer has removed our paywall on all pandemic-related stories and those of public interest to ensure that every resident of Brampton and Mississauga has access to facts. For those who can, we encourage you to consider a subscription. This will help us report on important public issues that the community needs to know more than ever. You can sign up for a 30-day free trial HERE. Thereafter, The Pointer will charge $10 per month and you can cancel at any time directly on the website. Thanks