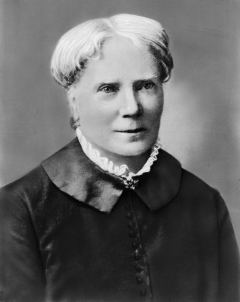 With the Blackwell Society, Weill Cornell Medicine continues its legacy of supporting women | Writing
After Elizabeth Blackwell emigrated from England to the United States in 1832, she did something considered unthinkable for women at the time: she entered medical school. First graduating from her class of 1849 at the Geneva Medical School in upstate New York, Dr. Blackwell overcame countless hurdles, founding a medical school for women in 1868 that was absorbed by what is now Weill Cornell Medicine and establishing a hospital that is now NewYork-Presbyterian Lower Manhattan Hospital.
One year after the Blackwell Company was established at Weill Cornell Medicine to connect and support female faculty, the legacy and pioneering spirit of Dr. Blackwell and her sister, Dr. Emily Blackwell, remains indelible. Adding to a host of efforts by the Blackwell Society over the past 12 months to advance women, the 4th Annual Weill Cornell Medical Diversity Week will spotlight critical women leaders.
"Dr. Blackwell understood that sometimes she needed to create her own structures," mentioned Dr. Geraldine McGinty, E. Darracott Vaughan, Jr., MD Senior Associate Dean for Clinical Affairs at Weill Cornell Medicine, who has been integral to the efforts of the Blackwell Society. "Women have understood that it is extremely important for us to be in the lead, because then we can be where decisions are made and overturn prejudices.
Launched on International Women's Day 2021, the Blackwell Society hosted a dozen events for Weill Cornell Medicine faculty members – some attracting hundreds of attendees – on issues important to professional development women, including pay equity and transparency, leadership opportunities and well-being.
"We are responding to a clear need, and society has been a truly wonderful and necessary outlet," said Dr Judy Tungassociate dean for faculty development at Weill Cornell Medicine, who led his training. "The topics we feature speak to women's struggles and we provide a place for women to come together to discuss them safely and more deeply."
This year's Diversity Week highlights diversity, equity and inclusion across the system, with content and programming contributions from every department of Weill Cornell Medicine. Highlights included an appearance by New York State Health Commissioner Dr. Mary Bassett, who reflected on the racial and ethnic disparities evident during the COVID-19 pandemic; and an upcoming keynote address by Dr. Carol Bradford, Dean of The Ohio State University College of Medicine, on "Breaking the Glass Ceiling: Advance Your Career Without Limits."
Much has transpired at Weill Cornell Medicine to uplift women in recent years, Dr. Tung noted, including the appointment of several women to department heads and other leadership positions, including Dr. McGinty .
"The downstream effects of these individuals, for example in creating mentoring structures and other opportunities, have been widespread and palpable," Dr Tung said. "To me, this year's Diversity Week feels very much like a celebration of that."
In view of the growth of the Blackwell Society, Dr. Tung recently invited a dozen new members to join its Steering Committee. It aims to expand the membership of only faculty members to include staff, students, trainees, and organizations affiliated with Weill Cornell Medicine.
"I am very excited about the new directions the Blackwell Society is taking," said Dr. Tung. "When we created it, we wanted to be fully inclusive, with no barriers to membership and with a smooth and scalable program, and we remain committed to these fundamental principles."