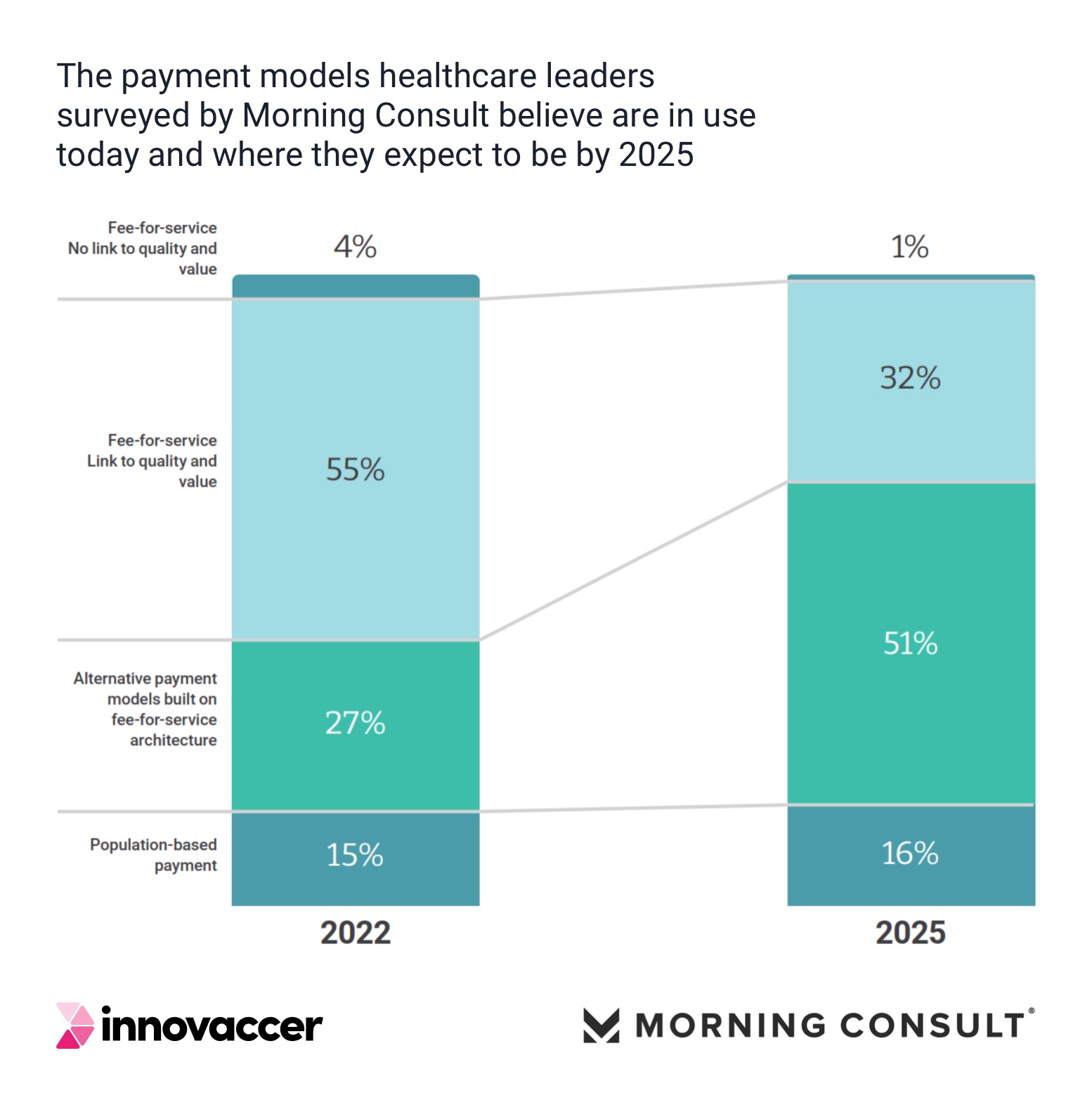 The State and Science of Value-Based Care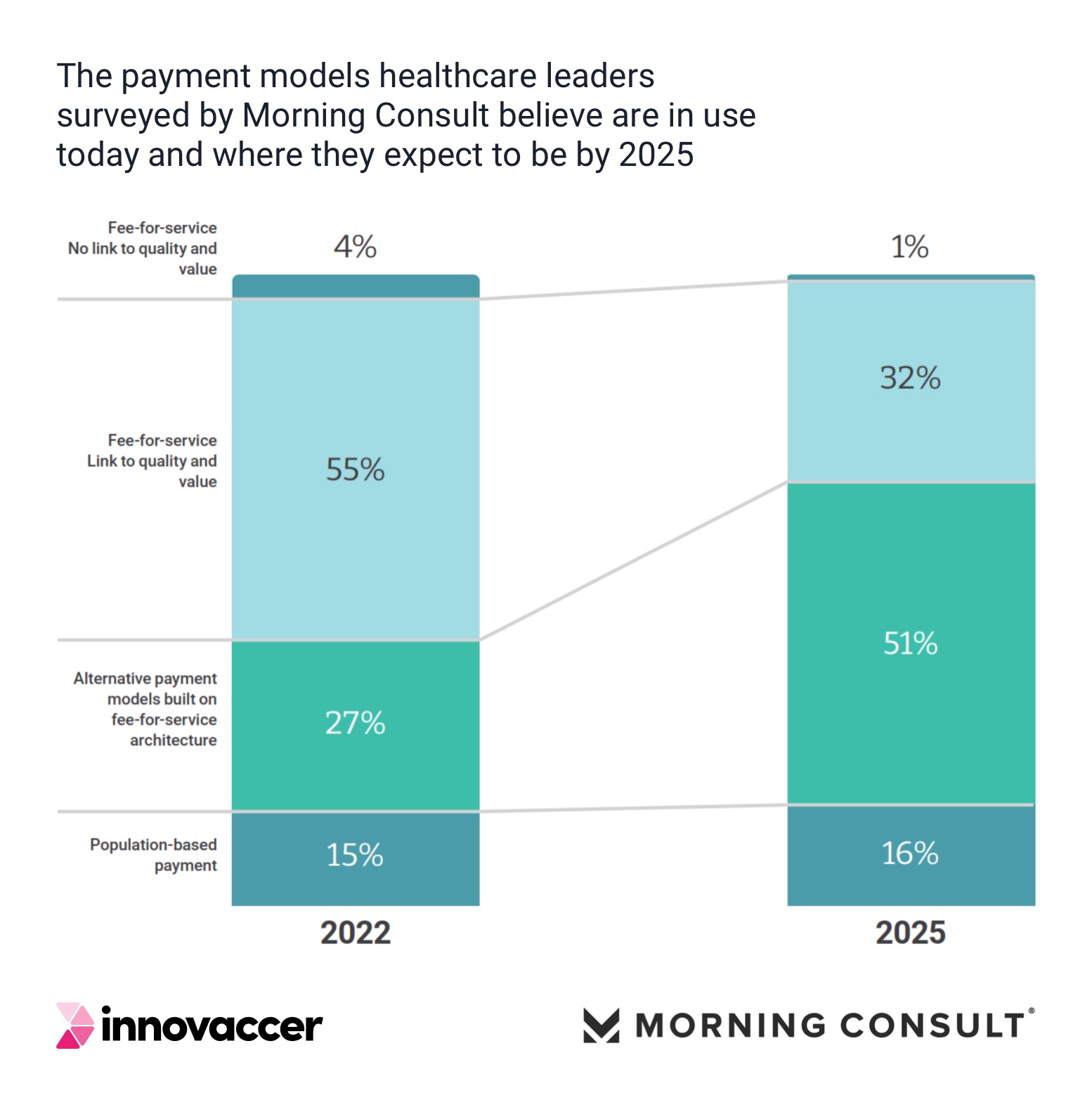 What you should know:
– Providers believe 96% of payments are now value-based to some degree, and 58% believe their EHR provider will not be able to support the data strategies needed to thrive in care based on value, according to a new study conducted by Morning Consult and Innovaccer.
– The 37-page national research study reveals the top IT infrastructure issues that healthcare leaders say are hindering or critical to making progress toward accelerating their transformation to value-based care.
The State and Science of Value-Based Care
Only 4% of providers today report using pure FFS unrelated to quality and value, and that figure drops to 1% by 2025. Providers believe that the payment model historically dominated in healthcare died out and that 96% of healthcare payment today has links to quality of care, cost reduction and, in some cases, the patient experience. This increases to 99% by 2025.
Additionally, while providers say they have shifted 96% of their revenue to some form of performance risk, 80% of these programs operate on an FFS architecture, where claims submission (as opposed to population-based payment) remains the value engine – analysis and payment based. The FFS architecture is even present in shared savings models, according to respondents, where healthcare costs are compared to a goal, and providers and payers share savings or losses.
– 58% said they did not believe their EHR vendor could support their enterprise data strategy.
– 42% said their data is highly fragmented and siled, a blind spot for the information, workflows, actions, and reports critical to value-based care delivery.
– 48% said they were not confident their organization had the infrastructure to capture and use all patient data.
– 41% said their organization needs population health analytics to advance their enterprise data/information strategy, making it the #1 sought-after capability among the top ten priorities.
– 68% said their organization lacks the AI ​​capabilities to drive the digital transformation essential to value-based care.
– 69% of healthcare officials said they do not use technology to identify at-risk patients.
– Despite a 94% increase in the number of executives who expect consumer-generated data to have a high impact on SDoH by 2025, 72% of respondents do not integrate medical determinants data and social.
In addition to presenting key findings on provider perspectives on value-based care, the State and Science of Value-Based Care report covers value-based care challenges and opportunities reported by respondents; addresses people, process and technology gaps that respondents said they need to fill; and provides expert insight and guidance to help suppliers leverage their data to accelerate their transition to value.
"Research shows a strong relationship between an organization's investment in modern digital infrastructure and its ability to succeed with value-based payment models," Stevens said. "Digital investments will be the deciding factor for more mature organizations that bear the risk. Key to value-based care is the ability to integrate data from EHRs and other IT silos (clinical, claims, lab, pharmacy, telehealth, remote monitoring, social determinants, consumer-generated, etc.) in a unified patient record that enables providers to drive analytics-based workflows, care management, risk stratification, and patient engagement strategies to achieve better outcomes at lower cost.
For more information, download the State and Science of Value-Based Care