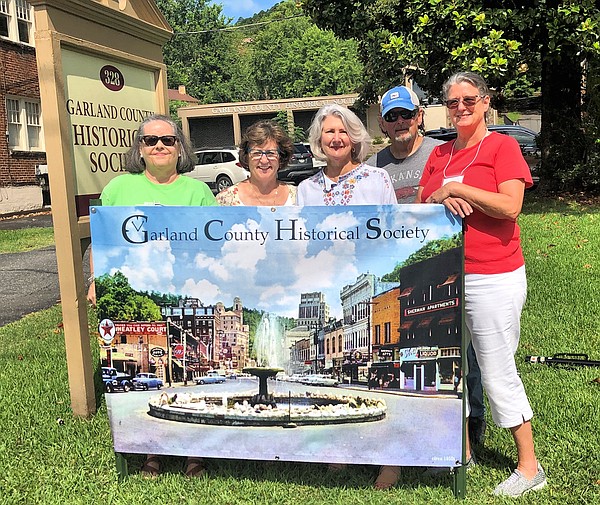 The Historical Society celebrates summer with a temporary "crystal fountain"
The Garland County Historical Society is celebrating past summers with a temporary "crystal fountain" in front of its building at 328 Quapaw Ave.
The fountain image has been enlarged from a postcard that features a well-known Hot Springs landmark. "We hope people will 'watch this space' to see more classic images of Hot Springs in the future," said Julie Brenner Nix, president of the company, in a press release.
"The Crystal Fountain was chosen as our first seasonal exhibit because it is so iconic. We placed the colorful and historic sign near the street to make it accessible to the public, who are invited to park in our parking lot and to walk on it to take a selfie or take a family photo by the crystal fountain, "Bitty Martin, vice president and head of outreach at the Historical Society, said in the statement.
The Crystal Fountain was located at the intersection of Whittington, Central, and Park Avenue, "which has been the site of interesting structures since the early days of Hot Springs. In 1899, the Columbia Club, run by Sarah (Mrs. Prosper) Ellsworth , built a pavilion that housed a cold water fountain in the middle of the intersection, "the statement said.
In the early 1900s, the Hot Springs Railway Company replaced the first pavilion with one that housed passengers waiting for carts.
"It was a busy transfer point for passengers to and from popular Whittington Park," the statement said. "When the carts were replaced by buses in 1938, the pavilion became a bus stop. In 1944, the pavilion collapsed when a truck slipped aside one of the support columns. The owners The truck paid for the pavilion's restoration, but the increase in automobile traffic at the intersection made it a dangerous place for pedestrians. "
The Kiwanis Club raised $ 5,000 for a fountain that replaced the pavilion in 1952. Called the "Fountain of Youth," its inauguration featured a combined marching band from the Navy, Army and General Hospital of the Navy, numerous dignitaries and a program telling the story of Hot Springs. Distinctive Arkansas crystals and other state minerals were added in 1952. Looping around the crystal fountain was a ritual for a generation of teenagers on Friday and Saturday nights in the 1950s and 1960s, according to the press release.
The crystal fountain was replaced by the current one in 1971 by EM "Mac" Bush of Bush Construction Company in memory of his late wife, Alice Bush.
The Garland County Historical Society is open Monday through Friday, 9 a.m. to 1 p.m.
This 1950s postcard is featured on a newly installed sign in front of the Garland County Historical Society building at 328 Quapaw. The map shows the crystal fountain that adorned the junction of Central, Park and Whittington avenues from 1952 to 1972. – Photo submitted