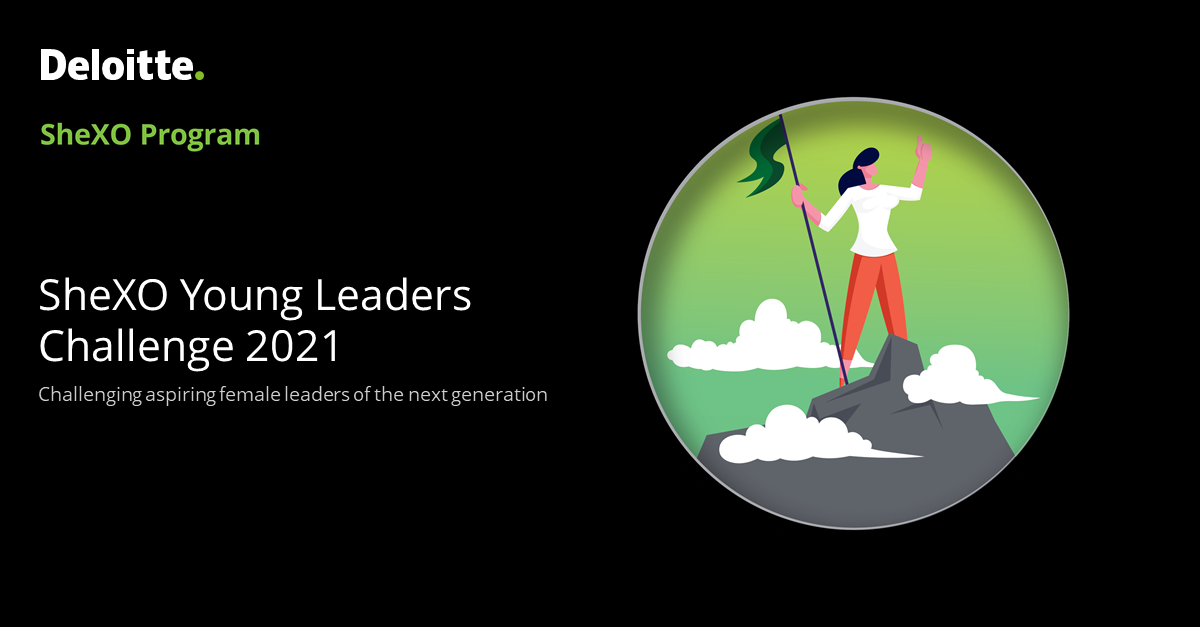 SMU students impress at inaugural SheXO Young Leaders Challenge
An initiative by Deloitte Singapore and United Women Singapore that supports the development of young women leaders
Singapore Management University (SMU) students took home half of the ten winning places in the inaugural SheXO Young Leaders Challenge, an initiative designed to focus on diversity and inclusion in the workplace in Singapore.
The five SMU laureates are Anagi Fernando (4th year, School of Economics); Brenda Wang (4th year, School of Social Sciences); Lai Siew Ping (4th year, School of Social Sciences); Salin Yap (2nd year, Lee Kong Chian School of Business) and Yeo Zhi Ning (2nd year, Lee Kong Chian School of Business). Congratulations!
The challenge was open to female students enrolled in any undergraduate program at a Singapore university, and applicants participate as individuals to come up with a solution to a topic-based challenge question. The goal of this challenge was to nurture and inspire young women, and give them a head start in their leadership aspirations before they enter the workforce.
Out of 59 entries received, ten winners were chosen based on their analysis and solution to the challenge question "If you were a leader now, how would you improve on the practices commonly used to promote gender diversity?" , Inclusion and Equal Opportunities in Singapore Corporate Organizations Today? », And their presentation during the final round of judging. Applicants were encouraged to consider, but not be limited to, their analysis and solutions to the following areas of gender diversity and equitable representation in cabinet and leadership roles; discrimination in the workplace, bias and fairness in recruitment.
At the virtual awards ceremony that took place on December 14, 2021, the winners received a paid internship with Deloitte or with a supporting organization of the SheXO Young Leaders Challenge (SheXO YLC) and mentorship with a female leader. experienced company from the same organization. They will also receive a cash prize and have access to networking opportunities at Deloitte events.
The judges were really impressed with the participants of the challenge. Ms. Sheila NG, Chief Financial Officer, Raffles Medical Group and SheXO YLC Mentor said: "I have been impressed by the diversity and thoroughness of research on the topic of presentation. The participants were all well prepared and articulate to express their views. It is important to encourage young people, especially women, to aspire to leadership positions as they advance in their careers. I urge all young people, especially women, not to be bound by gender perceptions as they advance in their careers, no matter what industry they work in.
Ms. SEAH Gek Choo, SheXO Program Manager, Deloitte Singapore, congratulated the winners and said: "It was a pleasure to witness the fire and zeal as they passionately shared their vision of a future without a party. caught nor discrimination. They have shown their leadership potential, and we hope these young women will build on this momentum and support other young women who aspire to make an impact that benefits society and the economy. It will certainly be an important step towards creating a pool of young women leaders and opening doors for them so that there can be a more diverse voice in many organizations.
When asked what motivated them to take part in this challenge, Brenda Wang said, "I have always been interested in the inclusion and empowerment of women, but it was only after have taken several modules as part of my specializations in politics, law and economics and public policy and public management. including gender policy and social stratification, which I have had the opportunity to think more deeply about diversity and gender inclusion and discuss it with my peers. SheXO YLC has been a great opportunity for me to pursue my interests in gender issues while challenging my writing and presentation skills. She added that her case analyzed the state of gender diversity and inclusion in Singapore, including the main challenges in Singapore workplaces and the programs companies have implemented to address the issue. Based on her analysis, she identified three solutions that companies could adopt to better address diversity and gender inclusion: (i) use AI technology to make hiring processes fairer, ( ii) include diversity and gender inclusion as KPIs, and (iii) set up support platforms for women and men.
For Salin Yap, it was her first time participating in a case challenge and she appreciated how well organized and accessible this challenge was. "During my college career so far, I have inspired and motivated my peers a lot, especially the admirable women around me. It motivated me to say yes to the opportunities to challenge myself personally. As cliché as it may sound, saying yes and taking the challenge head-on will bring you great fulfillment. "
As for Lai Siew Ping, the challenge of creating a more diverse and inclusive workforce really resonated with her and that was a primary reason for her to submit a proposal with recommendations to tackle these issues. "I believe these issues will only become more urgent over time, as Singapore and the world become more and more connected and therefore diverse. Yet the measures currently available have barely scratched the surface of creating a workforce in which everyone can feel comfortable and want to work. It had three main recommendations: (a) ensure a fair hiring process (eg blind hiring practices where non-job criteria will only be revealed when necessary; (b) create a working environment in which everyone would feel comfortable; (c) representation in leadership positions (i.e. equal representation of men and women as well as LGBTQ representation).
"As an international student from Sri Lanka, issues of women's empowerment and gender equality are close to my heart, having witnessed the gaps that exist in developing and developed countries," said Anagi Fernando.
"While researching for this challenge, it shocked me that there are still sanctions related to motherhood and vertical segregation in our society. My Solutions underscored the need for organizations to focus on creating systems that celebrate and promote gender equality and inclusion in order to have lasting and lasting change. I am incredibly excited and humbled by this victory! I look forward to internship and mentoring opportunities. I am eager for advice and guidance to start my career, and I aspire to join an organization where I can contribute and add value; to challenge standards and help create a more inclusive work culture, "added Anagi.
For Yeo Zhi Ning, "One of my aspirations is to help cultivate a healthy environment conducive to growth, no matter where I work. I hope I can make a difference by talking about the D&I issues that affect a lot. This was my first case challenge I've been on, and I thought it would be a good opportunity to step out of my comfort zone and try something new. I was very happy and surprised to learn of my victory, and I am very excited for the upcoming internship and mentorship. This is an incredible opportunity, and I can't wait to grow up under my mentor.
Congratulations to these five undergraduates who made SMU proud!