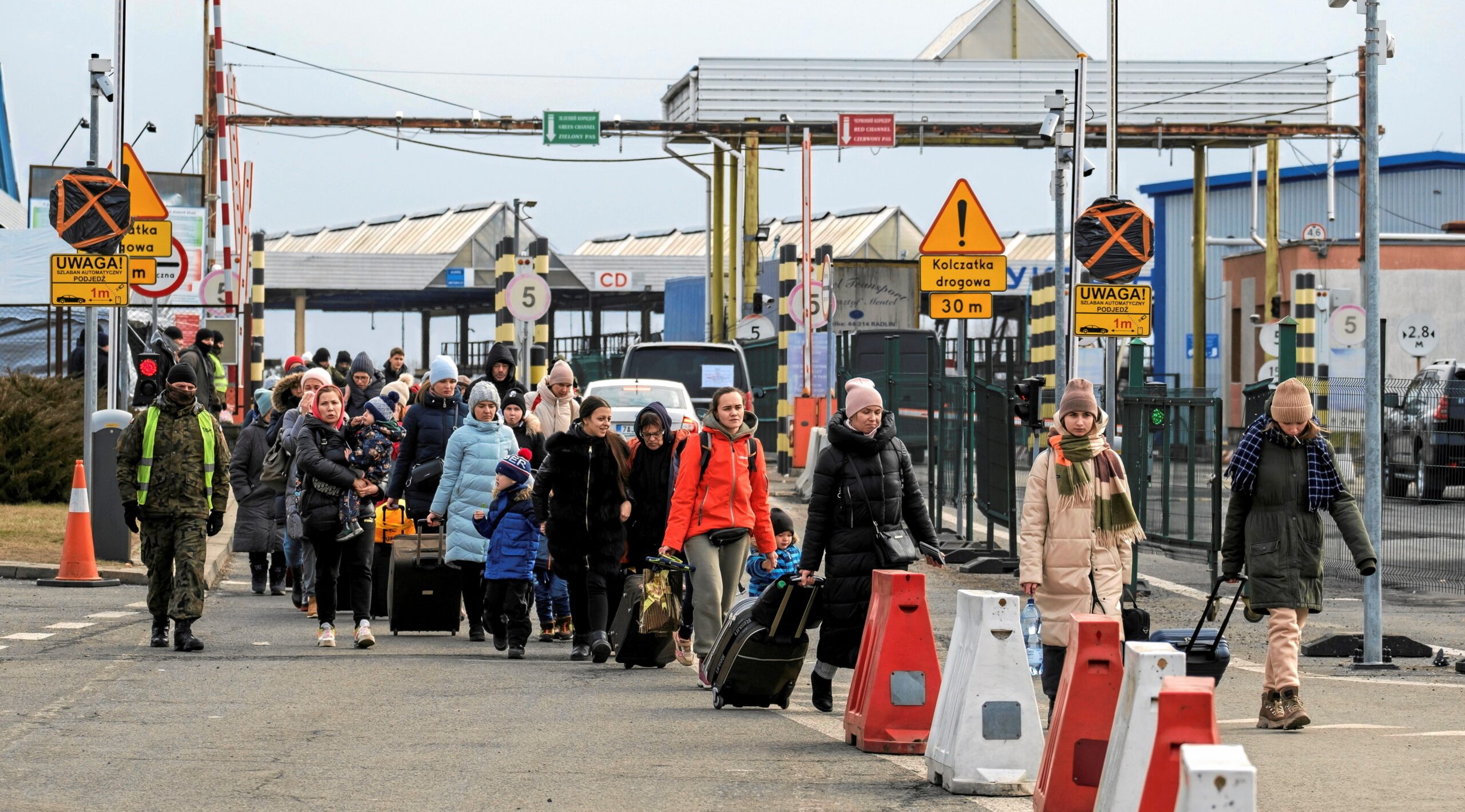 Poland to facilitate work and child benefits for Ukrainian refugees
The Polish government is seeking to introduce new measures that will make it easier for Ukrainian refugees to obtain the right to work and receive child benefits. A number of large employers have also looked for ways to make it easier to hire Ukrainians.
Since Russia invaded Ukraine last Thursday, more than 500,000 people have crossed the Polish border, about half of them children. While Polish authorities and the public have provided housing, food, education and other support, current legal restrictions make the job difficult.
More than half a million people have crossed the border between Ukraine and Poland since the Russian invasion last Thursday, the Polish border guard said.

Large numbers continue to arrive, including nearly 52,000 today at 3 p.m. https://t.co/FQDED5bl8a

— Notes from Poland 🇵🇱 (@notesfrompoland) March 2, 2022
For a Ukrainian immigrant to work legally in Poland (as hundreds of thousands already do), they would normally need to obtain a visa from a Polish diplomatic post in Ukraine, notes Business Insider Polska. For obvious reasons, this was not possible for those who fled the war.
Meanwhile, those applying for refugee status are not allowed to work for at least six months, Łukasz Koszczoł, CEO of recruitment firm Job Impulse, told Business Insider.
He says employers are keen to facilitate "safe, legal and efficient employment for people crossing the Ukrainian-Polish border."
More than 90% of Poles favor accepting Ukrainian refugees, while 64% say they are personally willing to help them, according to two new polls

The past few days have seen an outpouring of support from Polish society for the hundreds of thousands of people fleeing Ukraine https://t.co/xe70yzxPuP

— Notes from Poland 🇵🇱 (@notesfrompoland) March 1, 2022
Poland's Family and Social Policy Minister Marlena Maląg said she had discussions with business leaders on the issue.
"We are preparing regulatory changes that will allow long-term support for Ukrainian citizens…related to their security, first and foremost to the opening of the labor market," she said, quoted by Dziennik Gazeta Prawna.
"We want Ukrainian citizens crossing borders to have an open labor market with a stamp allowing them to legally reside in Poland," Maląg added, noting that special legislation to this effect could be ready today.
Shops in provinces close to the Polish-Ukrainian border were allowed to open yesterday despite the ban on Sunday trading.

Providing basic necessities to refugees is clearly in the "greater good" and the law will soon be clarified, a government spokesperson said https://t.co/WksM8Rqza2

— Notes from Poland 🇵🇱 (@notesfrompoland) February 28, 2022
Business Insider reports that the regulations would simply require an employer to notify authorities that they are employing a Ukrainian citizen under the new rules.
It also notes that some large employers, such as the Biedronka, Lidl and Kaufland supermarket chains and the Jysk furniture store, are working on their own special simplified employment procedure for people who have fled Ukraine, as well as various support programs for existing Ukrainian employees.
Biedronka announced last week that each of his Ukrainian staff would receive a payment of 1,000 zlotys (€216), which have already started to be paid out. Lidl and Kaufland offer to help Ukrainian employees find accommodation for evacuated family members.
The mayor of Warsaw said he would house Ukrainian refugees in a building that Russia claims to own.

The apartments were built in the 1970s as a luxury residence for Soviet diplomats and Moscow ignored recent court orders to return the now empty site https://t.co/d7gSGEFFix

— Notes from Poland 🇵🇱 (@notesfrompoland) March 1, 2022
Today, Maląg also assured that "Ukrainian parents will also have access to family benefits that are in force in Poland". This would initially be the "500+" family allowance program. Later, "if these women decide to stay in Poland, that will also [include] Family Care Capital and a Good Start," she added, referring to two other government programs.
Gertruda Uścińska, director of the Polish Social Insurance Institute (ZUS), which is responsible for benefits, told the Rzeczpospolita every day that her organization would do whatever it could "to help ensure that they receive [500+] family allowances".
Maląg also revealed that the government was in talks with the European Union about "funds for the financial support of social programs", but said it was still too early to reveal details, reports Wprost.
Poland promises school places for Ukrainian children, who make up half of refugees
Main image credit: Patryk Ogorzalek / Agencja Wyborcza.pl
Daniel Tilles is editor-in-chief of Notes from Poland. He has written about Polish affairs for a wide range of publications, including Foreign Police, POLITICO Europe, EUobserver and Dziennik Gazeta Prawna.