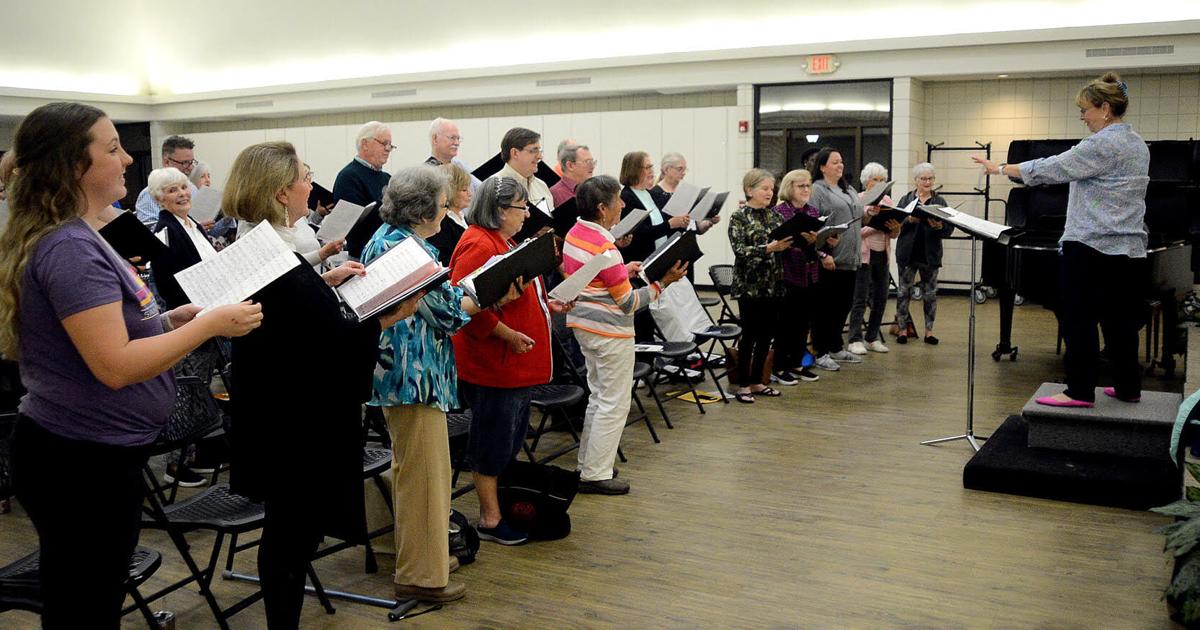 Moore County Choral Society Prepares for Spring Concert: A Journey From Dusk Till Dawn | News
It is April in the Sandhills: the flowers surround us; the faithful celebrate Easter, Passover and Ramadan; and the Moore County Choral Society welcome the public to their first spring concert since 2019. The Choral Society, a regional organization of 50 dedicated volunteer singers, has been entertaining, educating and enriching our region for nearly half a century with performances by masterpieces of choral music. . On Sunday, April 24 at 4 p.m., the tradition continues at The Village Chapel, Pinehurst.
For the thematic work "From Dusk to Dawn," Choral Society Artistic Director and Conductor Anne Dorsey selected and arranged 13 choral pieces by modern American composers, including Morten Lauridsen and Randall Thompson. Some songs adapt poems by famous authors, such as Robert Frost, Sara Teasdale and Christina Rossetti; others use texts from spirituals, folk songs and the Latin Mass. These selections achieve what Dorsey appreciates about choral music, "A marriage of words and music, of syllable and tone. The choral composer puts a text to music, conveys its meaning and captures the listener's ear and heart.
The hour-long concert program, like an oratorio or requiem, transports listeners through an emotional and spiritual narrative arc.
"From Dusk to Dawn, is rooted in English-language poetry on the subject of dark and light, night and day," Dorsey said. "The program features beautifully evocative poems carefully set to music, creating a kind of choral chiaroscuro, a sonic dark and light that will transport the audience from the end of one day to the beginning of another."
These poetic and musical effects are conveyed almost exclusively through choral singing, with distinctive timbres spanning up to eight choral sections, from first soprano to bass. In the absence of solo voices, orchestra or organ, it falls to Dorsey's musical collaborator, Stephen Gourley, to perform the varied piano scores that guide and enhance the choral lines.
Twilight is the dominant theme of the program. Ten songs about evening, night and sleep invoke darkness, but often light intervenes, like symbolic stars or the moon or angels. Grief, pain, or confusion can give way to calm or hope, or even a moment of enlightenment.
Audiences encounter twilight in three varied masterpieces of choral chiaroscuro. The first, by Lauridson, features an ethereal melodic line of tenors and basses, with the alliterative words, "Sure in this shining night of starry shadows." Poet James Agee speaks intimately to the present, drawing us into reflections on the passing seasons: "I cry for wonder, I wander all alone." These lyrics give way to a familiar piece from Thompson's Frostiana. The soprano voices intone "O star". Frost's "we" speaker, as humanity, tries to make sense of this distant beacon. At the climax, the star "says something," in a choral voice that rises and then quiets as the words move us to tears. When "the crowd is swayed to take praise or blame too far", we are told, "we can choose something like a star to keep our spirits up and be quiet". The deeply personal reasserts itself, but with anger and physicality, in the restless music of David N. Childs for Teasdale's heartbreaking first-person lyric, which calls for the day that "beat my body, bruised my soul, did not destroy me". left nothing beautiful or whole. The poet "snatches a gift" from the dying day: "a moon in the cloudy seas", which, for brief interludes, brings beauty and calm.
The twilight continues, first with simple prayers: a folk hymn to Jesus as a comforting "song in the night" for us, followed by a women's chorus of evening prayer from Humperdinck's "Hansel and Gretel" and from Andrea Ramsay's adaptation of a prayer from Ghana. . Ruth Morris Gray's rest sets capture the magical Pre-Raphaelite imagery and repeated lines and rhymes of a Rossetti ballad. David Dickau's music finds hope in a poem Teasdale wrote, before his suicide, where stars above a city create "music of stillness" for the lone speaker. In the final piece, in a poem created for a score by Eric Whitacre, the poet Charles Anthony Silvestri lies in bed, drifting in restless, waking dreams, until "I surrender to sleep" and that the vocal parts fade into a whisper.
The Dawn section opens, adding strings, with Ola Gjeilo's Sunrise Mass Gloria. Dorsey chose this piece "because of the brilliant choral/orchestral writing. While an artist can paint a sunrise, a blacksmith can describe it, Gjeilo has composed one.
A shimmering melody of the first violins, as if coming from another world, is taken up by angelic sopranos singing gloria in excelsis deo. The lower parts come together for peace on earth then the strings go up.
"It's like we hear the sun coming up," Dorsey said.
Later we hear a majestic march for God, Heavenly King, and a breathtaking Amen. Dorsey added: "With the use of strings and the Gloria text of the Mass, Gjeilo offers an aural representation of the dawning of a new day."
Closing the program on a happy and timely note, Mark Wilberg sets to music a hymn text by former St. Andrew's teacher Mary Louise Bringle. The text states "Light dawns in a weary world" when humanity embraces justice and peace. The word painting reinforces the refrain: "The trees will cheer" as "all in wonder echo shalom".
Tickets for the concert are $20 for adults and $10 for students. They can be purchased online at ticketmesandhills.com, at the Arts Council office or with members of the Moore County Choral Society. For more information, visit the Choral Society website at www.moorecountychoralsociety.org.