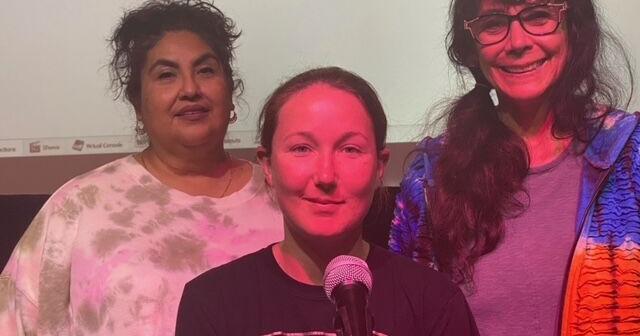 Kings County Historical Society to Benefit from 'Night of Poetry' | Local News
An open-mic poetry reading will be held in Kings County on April 9 at 7 p.m. It will take place in a historic "old church", built in 1876 – the oldest in Kings County.
All proceeds go towards the preservation of the site, said Silvia Gonzalez, executive artistic director of the Hanford Multicultural Theater Co. (HMTC), which organizes the event.
Typically, HMTC donates 50% of event ticket sales proceeds to the Kings County Historical Society, which operates the old church building and is responsible for preserving it.
"This time we're going to give 100%," Gonzalez said. "Our suggested donation at the door is $5."
Poetry Night is directed by Raymond Gomez. Programmed poets include Maricela Mares-Alatorre, Sarah McCullough and Gonzalez.
"Maricela has poetry working in the fields," Gonzalez said, noting that Marez-Alatorre was the first in her family to graduate from high school and college. "She was once a farm worker. Her father was a friend of César Chavez. I call her poetry 'Fields of Poetry'."
Gonzalez provided details about McCullough that reflect his passion for social justice.
"His poetry is about grief," Gonzalez said of McCullough, an active duty member of the U.S. Navy. "She has a poem about losing her mother while she was away on a boat."
Referring to the tragic case of Vanessa Guillen – a US Army soldier bludgeoned to death with a hammer nearly two years ago – Gonzalez alluded to McCullough's fearlessness as a poet.
"She has a poem about that incident that's really explosive," Gonzalez said. "I call his poetry 'Heartfelt Journey'."
As for her own poetry, which Gonzalez began creating in the 1990s while in Chicago, the HMTC artistic director said she considered the work she wrote to be "lost in a drawer."
Gonzalez loves the open-mic format for reading poetry, which she first experienced during the era of the poetry revival through the "poetry slams" movement.
Gonzalez, who lives in Lemoore, may have honed her poetry in Chicago, but today she is a full resident of Central Valley.
"I've been in the area for over a decade now," she said.
Following the performance of the scheduled poets, an open mic session will begin.
"Each poet will probably spend 20 minutes," Gonzalez said. "And, of course, we have an 'open mic' after a brief intermission. We have a gentleman from Hanford and another gentleman from Visalia who will also be reading poetry."