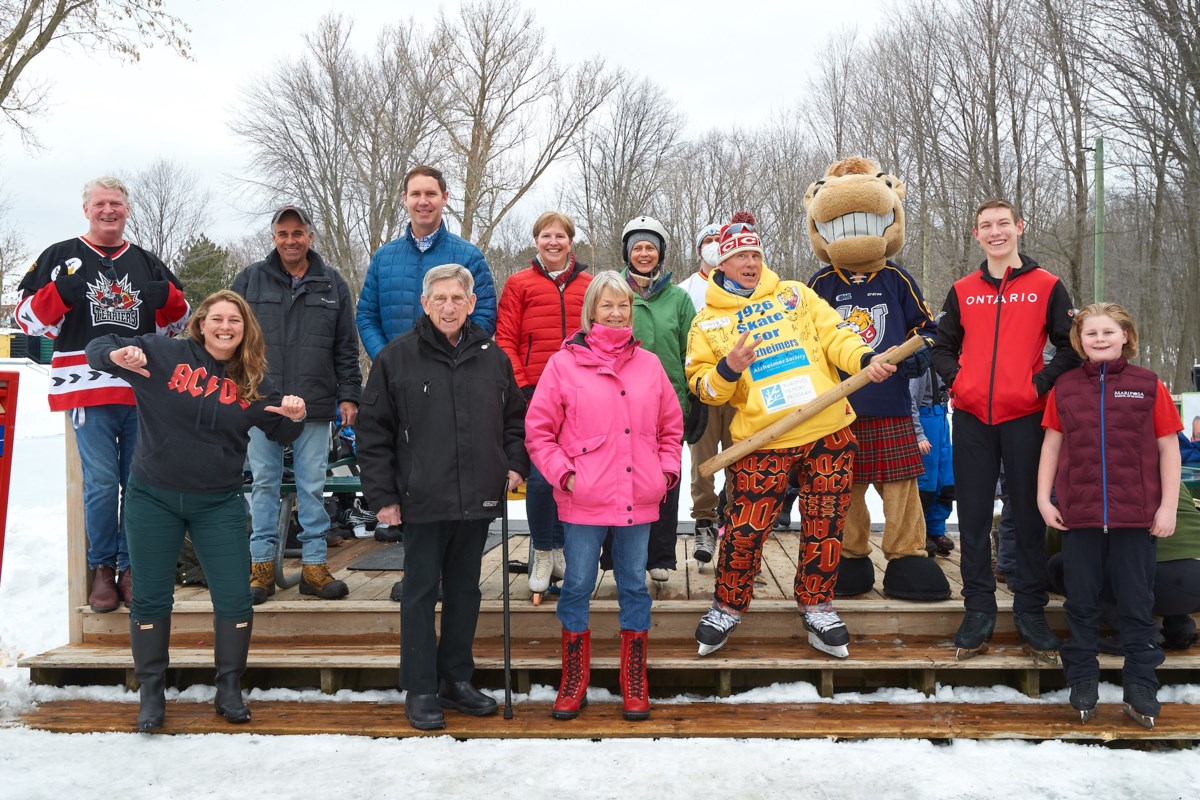 'Inspirational' Family Day skate raises $6,000 for the Alzheimer Society
All money raised will stay in the area to support programs and services offered by the Alzheimer Society of Simcoe County, officials say.
PRESS RELEASE
SIMCOE COUNTY ALZHEIMER SOCIETY
*************************
Steve McNeil said goodbye to ice cream for this season as the Alzheimer Society of Simcoe County confirmed the day as a remarkable success with more than 300 people passing through Webers Starbucks Rink between 12:01 a.m. and 7:26 p.m. to give more $6,000 and some ice time with Steve.
He was in good company with the skaters who graced the ice from the Mariposa and Orillia Skating Clubs, Charlie Horse, Mayor Steve Clarke and so many supporters from across Simcoe County.
It was a fun Family Day event for a good cause.
"It was an honor to have Steve visit Severn as part of his ten town skate. Steve's efforts are aimed at raising awareness and funds to help those most affected by Alzheimer's disease in our area," said said Severn Mayor Mike Burkett.
"I understand the impact this disease has on a family, and the love and patience it takes to care for someone with dementia. It was fantastic to be invited to participate in this event and to offer support and encouragement to Steve on behalf of the township as he completed his 19 hour, 26 minute skate for Alzheimer's disease," Burkett said.
"What a great community event. A great turnout for a great cause! Meeting Steve and witnessing his passion was inspiring," said Mayor Steve Clarke.
All funds raised will stay in the region to support the programs and services offered by the Alzheimer Society of Simcoe County to people with dementia and their care partners throughout Simcoe County.
Being diagnosed with dementia is not easy. Connecting quickly with a supportive community can make a big difference in eliminating uncertainty and unknowns. The Alzheimer Society is the first place to turn. To access programs and services, people diagnosed with dementia and care partners are encouraged to call the Alzheimer Society of Simcoe County directly or ask their family doctor for a referral to the Alzheimer Society.
"Sir. McNeil's dedication to this skating marathon is a powerful symbolic demonstration of the time and effort caregivers devote to family members with Alzheimer's disease and other dementias. I share my sincere thanks to Mr. McNeil and the Alzheimer Society of Simcoe County for organizing this skate," said Doug Shipley, MPP for Barrie–Springwater–Oro-Medonte.
Skate #1926 was a great warm-up for the 24th Annual IG Wealth Management Walk for Alzheimer's. People across the county will be putting their skates away and getting their walking shoes out in preparation for the 10,500 step walk during the month of May for the 10,500 people living with dementia in our area. Stay tuned!
*************************