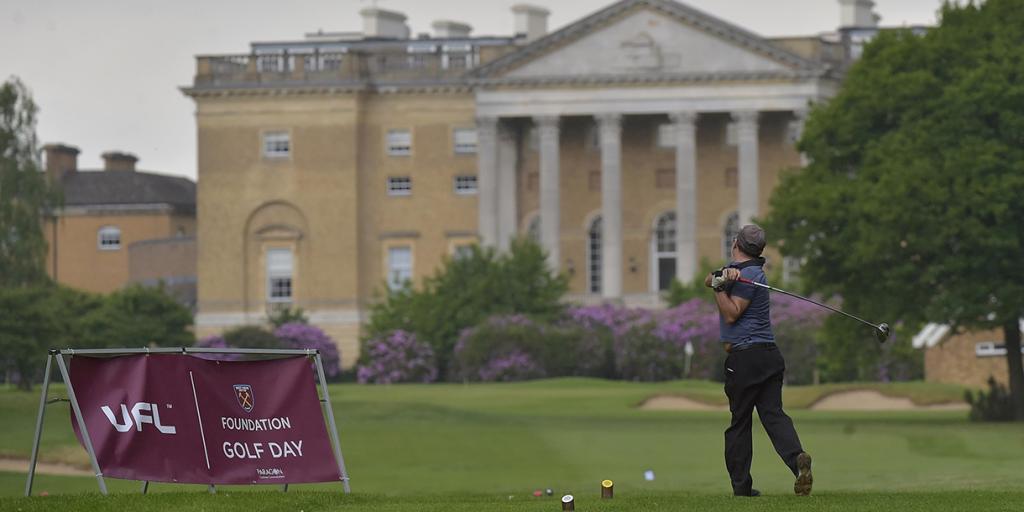 Hammers Golf Day raises tens of thousands for charitable causes
The second annual West Ham United Foundation Charity Golf Day, supported by Paragon Customer Communications, saw Hammers legends and fans come together last month to raise £28,675 for charitable causes.
Hosted at Thorndon Park Golf Club, the event proved a huge success, with attendees enjoying a full day of golf and games with Hammers legends including James Collins, Marlon Harewood, Jimmy Walker, Kenny Brown, Stuart Slater, Steve Jones, Brian Dear, Martin Allen and George Parris.
The former footballers have teamed up with golf supporters to raise significant funds for the Foundation, which offers and supports a range of social good initiatives to help families living in poverty, tackle anti-social behavior and provide support to employability.
Participants had the option of taking part in the 18 holes of Golf Day either as a four-ball team or as a three-ball team with a legend as their fourth player.
Funds were raised on the course with the support of hole sponsors AMG Waterproofing, AMOS Properties and UFL, and players took penalty kicks – with rules for fines set out by club captain Mark Noble in a form imposing!
To the delight of golfers, there were fun competitions spread across the green, including 'Beat the Pro' (against PGA Professional James Wood), 'Nearest to Pin' and 'Longest Drive', each winning prizes , while refreshments before departure, at the halfway house and after their tours, participants were well received.
When the players returned to the Clubhouse, they received goody bags, a two-course dinner, entered into a raffle and enjoyed an in-depth Q&A with the Legends themselves.
Then it was fan favorite Walker's turn to take the mic for the evening, revealing that the Harewood side – which included James, John and Martin – prevailed with 94 points, narrowly ahead of Slater's side. (John, Joseph and Chris) in second with 93 points and Parris (including Tony, Luke and Ian) third with 92.
There was also the traditional 'Wooden Spoon' prize and contest results, with five players revealed to have beaten the pro – including Parris and Collins!
To cap off a brilliant day, Walker held a spectacular fundraising auction, with prizes ranging from a signed Declan Rice England shirt and a team signed West Ham shirt to match tickets. hospitality, VIP hospitality at the O2 and sports memorabilia.
The end result of an enjoyable day saw £28,675 in funds raised for the Foundation, with more than 30 initiatives engaging up to 50,000 people of all ages and abilities across Essex and the London boroughs of Newham, Tower Hamlets, Redbridge, Barking and Dagenham, and Havering, each year.
Joseph Lyons, chief executive of the West Ham United Foundation, said on the day: "This fundraising total is an incredible gift for us in terms of what we can now do for the community.
"It can be quite challenging in the charitable world in terms of cost, but we are truly proud that the Foundation spends 92p of every pound donated to deliver life-changing programs to every individual we reach.
"More and more of your support allows us to do more and more work. Fundraising activities like Golf Day allow us to go a little further.
"I couldn't wish for a better club in terms of the support West Ham United give us. Fans, legends, and current players give so much of their time to come to our events and help out on days like today, and I can't thank everyone who continues to support us enough.
"I've also seen how many people love to play golf and love to play football – combine the two to raise money for a good cause, and it's a winning formula! Of course we will be doing many more golf days in the future! »
Walker added: "It was an amazing day – aside from the golf, at least for me!
"No, I was actually fine – although maybe not as good as Marlon Harewood!
"It was for a fantastic cause; the Foundation really does amazing things. Even on the occasion when it was raining, everyone had a smile on their face, raising a lot of money for a great cause, a fantastic cause – a cause that I am honored to be able to support.
And Collins added: "It was a brilliant day. I had been looking forward to this event for a long time and it was great to see so many people enjoying it.
"What the Foundation does is great. There is so much work being done in the community and you can really see the difference it makes in people's lives, especially when these fundraising events take place.
"It was a good day, I met a lot of really nice supporters, and I'm already looking forward to the next one."
To find out more about the work done by the West Ham United Foundation, please click here.
To register your interest in the next Foundation Golf Day or to find out more about how you can get involved, please contact [email protected]