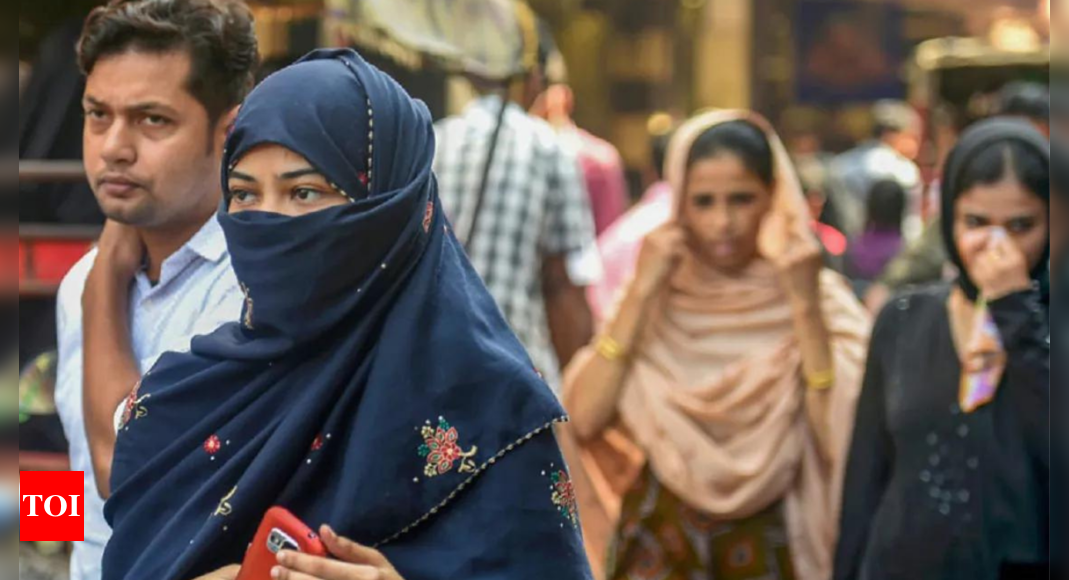 Explained: Who are the Muslims of Pasmanda, the group the BJP is trying to seduce? | India News
NEW DELHI: During the BJP national executive meeting in Hyderabad last week, Prime Minister Narendra Modi urged party leaders and workers to reach out not only to weaker sections among Hindus, but also to "destitute and oppressed" sections among minorities "such as Pasmanda Muslims".
The prime minister's singling out of the particular Muslim community has raised eyebrows among political pundits as it revealed the BJP is planning to nibble away at a section that is traditionally seen as the opposition parties' vote bank.
Which are Pasmanda Muslims?
Muslims in India are generally categorized into three social groups – Ashraf (the "noble" or "the honorable"), Ajlaf (backward Muslims) and Arzal (Dalit Muslims).
Ashraf is considered the traditionally dominant social group. Scholars believe that this group includes families who can either trace their lineage to the Muslim conquerors or be upper-caste Hindus who converted to Islam at an early age. The group includes the Syed, Mughal, Pathan etc. or upper caste converts like rangad (Rajput Muslims) or Taga (Tyagi Muslims).
Ajlaf and Arzal are collectively known as Pasmanda – a Persian word meaning "left behind". It is a term used for Other Backward Class (OBC) Muslims comprising economically and socially backward members of the community.
Many experts say these groups received a lower designation in the Muslim order because they were part of the local population who later converted to Islam. Many of these families are believed to have taken names from their professions such as 'Ansaris (weavers)' or 'Quereshis (butchers)'.
There is, however, no general consensus among scholars on the origins of religious stratification among Muslims in India.
85% of the Muslim population
Pasmanda Muslim leaders claim that almost 85% of the Muslim population in India are Pasmanda while the rest are 'Ashrafs'.
The community has often tried to raise the issue that they are the numerical majority among the Muslim population but a tiny part of the elite (Ashrafs) has remained in a position of leadership. They claim that of the approximately 400 Muslims elected in the first 14 Lok Sabhas, only 60 were from Pasmanda.
President of the Pasmanda Muslim Society Anees Mansoori welcomed the concern shown by the Prime Minister and alleged that opposition parties such as Samajwadi Party (SP) and Bahujan Samaj Party (BSP) had failed to take into account marginalized sections of Muslims.
He added that the community is "ready to leap to Modi PMif he takes a step towards us".
The BJP recently won the by-elections held in Rampur and the parliamentary constituencies of Azamgarh. Both constituencies were considered strongholds of the Samajwadi party and have large numbers of Muslim voters.
Community organization
The Pasmanda Muslim Mahaz was founded by Ali Anwar, an OBC Muslim, in Bihar in 1998. The organization is dedicated to the empowerment of Muslims belonging to the Arzal and Ajlaf class.
Anwar founded the organization after observing caste oppression by "Ashraf (upper class)" Muslims on "lower class" Muslims. The Mahaz became a broad front for a number of Dalit and backward Muslim organizations from Bihar, Uttar Pradesh, Jharkhand, West Bengal and Delhi.
He hailed Prime Minister Modi's efforts to reach out to the Pasmanda.
"The condition of Dalits among Muslims can only be improved if they are recognized as Scheduled Castes under Section 341, which originally only recognized Hindus as SCs," Anwar said. Later, changes were made and Hindu SCs who converted to Sikhism and Buddhism were allowed to retain their SC status. Currently, members of Scheduled Castes who convert to Islam or Christianity lose their SC status.
OBD status
In 1980 the Mandal Commission submitted its report and in August 1989 the government of VP Singh implemented its recommendations, setting a 27% quota for OBCs. This is when more Muslim subclasses were added to the OBC list and currently 79 of these subclasses enjoy the benefits of booking as an OBC.
On December 7, 1994, Maharashtra CM Sharad Pawar issued a resolution stating that Muslim OBCs would be treated on equal footing with Hindu OBCs. This has paved the way for many Muslim OBCs who have benefited from reservations in education and employment.
In 2014, the Congress-NCP government of Maharashtra identified 50 backward classes among Muslims and granted them a 5% reservation in education and jobs.
The decision was challenged in the High Court, which only allowed 5% reservation in education. But the government changed soon after and the BJP government that came to power showed no inclination to pursue the matter.
Slow progress
In Yogi Adityanath 2.0 UP government, Danish Azad Ansarioriginally from the Pasmanda community, was appointed Minister of State.
Apart from this, the UP government has also appointed Javed Ansari as Chairman of the UP Board of Madarsa Education, while Chaudhary Kafil-Ul-Wara was appointed as Head of UP Urdu Akademi. Both come from Pasmanda background.
Three demands of the Muslims of Pasmanda
*Reservation for Dalit Muslims in accordance with Article 341 of the Constitution. "Dalit Muslims used to get reservations from 1936 to 1950, but they were removed by the Congress government in 1950. In the same way that reservations for Sikhs and Buddhists were reinstated, ours should be too," Mansoori said.
* Implement the Karphuri Thakur formula like Bihar, so that there is no fear of any kind of religious conversion.
* Employment opportunities for Muslims in Pasmanda and help under the MSME section.
(With agency contributions)