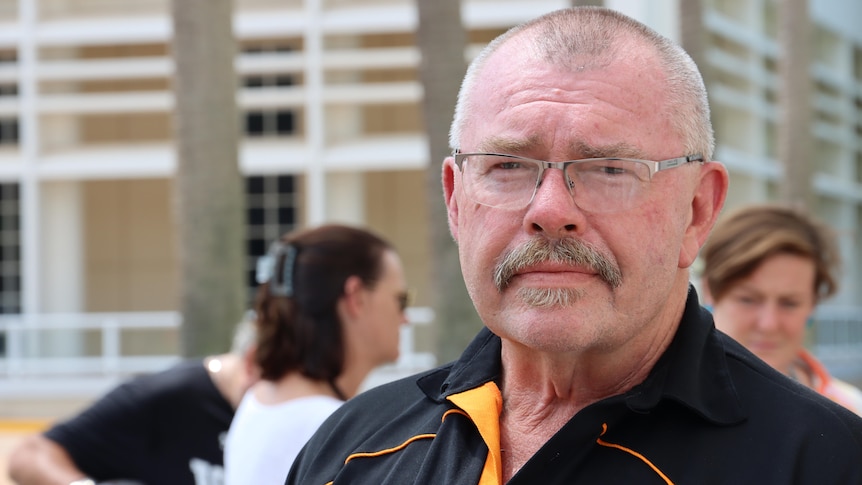 Darwin bus drivers demand 'urgent' action to protect themselves and passengers from violent incidents and anti-social behavior
Northern Territory bus drivers say they are concerned about passenger safety amid an 'intensely' worsening problem with violence, property damage and anti-social behavior on Darwin's bus network.
Key points:
Violence and anti-social behavior on Darwin's bus network has increased in the past year
Drivers have mobilized to demand greater protection for themselves and their passengers
New legislation gives transit officers increased powers to stop and ban problem passengers
Drivers, their families, passengers and members of the Transport Workers' Union gathered on Sunday to rally for "urgent, increased and committed" safety measures for bus drivers and commuters in Darwin.
John Woloczij, who has been driving buses in Darwin for eight years, said the problem had "escalated intensely" over the past 12 months.
"I've never seen so many assaults and assaults at interchanges – on drivers, passengers," he said.
"I talk to some of our regular passengers…they don't want to take the bus anymore, they don't want to let their children take the bus anymore.
Violence against bus drivers is a long-standing problem in the territory, but Mr Woloczij said drivers were not just worried about their own safety.
"We have concerns for the passengers."
He said drivers were "getting closer" to considering a strike.
"We have lost a lot of good drivers and there are still a lot of drivers who are considering leaving," said Mr Woloczij.
"The whole industry, if it continues as it is, could come to a screeching halt because there are no drivers.
"No drivers, no buses, no services."
request security measures
TWU branch secretary Ian Smith said drivers were demanding urgent action, including new safety screens on buses.
He said plexiglass screens had been installed on some buses for a trial starting this week.
"They need a safety screen that allows them to do the job safely without fear or favor of being spat on, kicked, punched…threatened with a knife," he said.
"We're excited to go see a prototype on Monday to see where it takes us."
Mr Smith said the network also needed more transit officers, of which there are currently 19.
"We asked for seven, eight, nine, 10 [more] – the number until it is safe," he said.
"They can intervene before [an incident] escalates into something more serious.
"That's what happened, little actions happen… and all of a sudden you have a full-fledged fight or a driver in trouble because he has a bus full of passengers that's out of control."
Increased powers for transport agents
New legislation, which came into effect last month, allows NT transit officers to issue bans to problem passengers on buses, at bus stops and at bus interchanges.
Amendments to the Public Transport (Passenger Safety) Act also give public transport officers the power to arrest people for offenses such as assault and property damage.
Transport Minister Eva Lawler, who spoke at the rally on Sunday, said the Northern Territory government had also pledged to put in additional transit officers and security guards.
She would not comment on the number of new workers to be added to the network, saying it was an "operational" matter.
Ms Lawler insisted Darwin's buses were safe, but acknowledged there had been a spike in incidents on the bus network in the past year.
"Really, it's probably been this year that we've seen an escalation in incidents and I think that reflects the anti-social behavior that we've seen in the community," she said.
According to the most recent statistics from the Northern Territories Police, property damage has increased by 20.6% across the territory in the past year to July, while assaults have increased by 2, 15%.